evaSMART is a flagship device of the next-generation air conditioners with smart features and tools available with the Evapolar mobile app. Using the EvaApp you can control your device from a distance just by tapping the screen!
To use it you have to connect it to your evaSMART via Wi-Fi first (the connection has to be the 2.4GHz band one). You can connect more than one device to the app if you have several at your home and in the office. Here's how it's done:
 1. Install and open the app, sign up or log in to it if you have already created a profile/logged in via Facebook. Tap "Start" on the start screen.
2. Tap "Connect new device" on your "my Evas List" screen.
3. Turn your evaSMART on by pressing the Power button.
4. Follow the 2 steps on the "connect to your evaSMART" screen: 
- Push and hold the Power button on the device for 5 seconds to switch the device to the Wi-Fi Access Point mode. You will see the Wi-Fi connection icon  on the display:

   - Connect to "evaSMART" Wi-Fi via your mobile device's regular system settings (tap "connect to Wi-Fi" to do that, you won't need a password) and then get back to the app (steps described below, all the pics are clickable).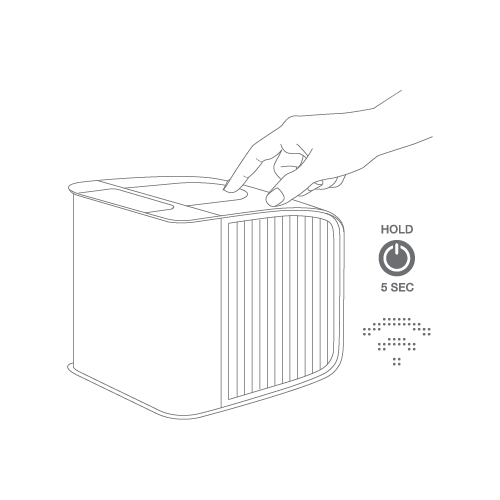 Now you can control your evaSMART literally from any place on planet Earth that has an Internet connection if you'd like to! Not mentioning a few meters away :). Please read about all the available settings and tools in the Controlling your evaSMART with the Evapolar app article.

Enjoy creating your personal microclimate the smart way!
Note: if you're facing issues when attempting to connect your device to the Wi-Fi network please read this article for troubleshooting: Wi-Fi connection details.
 If you have more questions, please contact us via "Submit a request" button, we'll be glad to help you!