We have made sure that setting up your air cooler is quick and easy. evaSMART is almost ready-to-use right after you unpack it. All you have to do is connect your device to Wi-Fi and add it to the mobile app and Smart Home. During the following sessions your device will attach to your selected connections automatically. Following a few simple recommendations can help to ensure that your experience as smooth as possible. 
First use: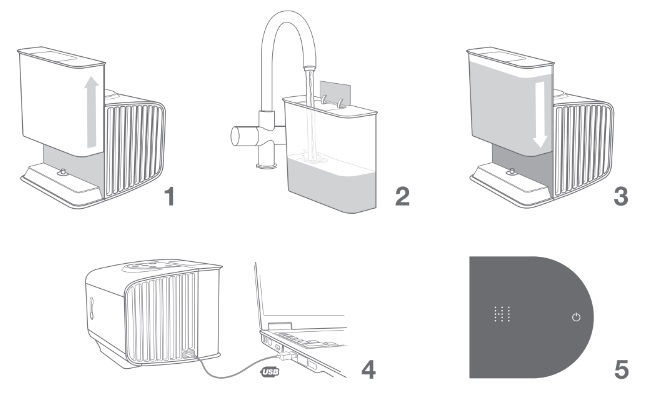 1. Slide the water reservoir up.
2. Open the lid to fill up the reservoir. Fill with water.
3. Place the reservoir back onto the base. Make sure it is installed properly.
4. Use the cable to connect the device to the power source. Press the Power button.
5. The device will switch on. The power button on the top of the device will light up and a short vibration will follow.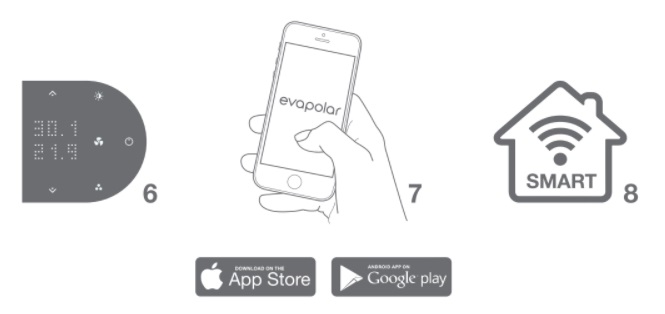 6. Use the top panel of the device to adjust device parameters
7. Install the Evapolar Mobile App to extend the evaSMART management experience via Wi-Fi connection. 
8. Connect evaSMART to Smart Home and use the full voice experience for managing the device.

The temperature of outgoing air will start decreasing in a few minutes. You can vary the airflow using the mobile app or with the arrows on the upper part of the device.
Enjoy your personal microclimate!




Important:
During the first use you may notice a technical smell. This is normal and it will vanish completely after several hours of use. When the first cartridge starts to fill, the evaporative pads will become rapidly saturated with water. This is normal and will enable your device to work properly.
If you have more questions, please contact our Support team via "Contact us" button, we'll be glad to help you!